Treating Bee Stings
Summer is here, kids are in the parks and backyards and so are the various types of insects that sting. When a child gets stung, parents want quick relief for the child. Nature provided a remedy that is found naturally in most parks in our area. The plant is plantain. This plant when crushed can be applied to any red swollen insect bite to reduce the swelling and the pain.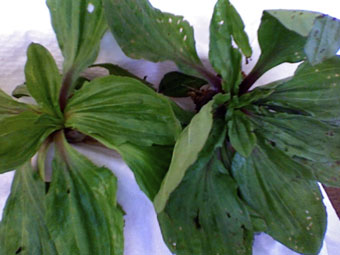 The plantain is found in many yards and parks. It is easy to find, and many people recognize it even if they do not know the name. The plant grows low in the grass and has oval shaped leaves radiating out in a circle. Several seed spikes arise up from the center of the plant.
Using plantain is very simple. You want to pick the leaves from a clean source. Plantain is easily killed with herbicides. So any lawn that has the plant should be free of chemicals. Wash the leaves with some water. The leaves can be crushed into a paste by shredding and rolling the leaves in your hands with some water or you can chew the leaves into a mush. The paste can then be applied to the bite/sting and held in place until the bite feels better.
David Bock, C. Ac., Dipl. OM, FABORM
Wisconsin Certified Acupuncturist
National Board Certification in Oriental Medicine
Fellow American Board Of Oriental Reproductive Medicine